The email marketing platform Snovio offers a host of useful features like finding email addresses, verifying emails from the contact list, launching drip email campaigns, tracking emails, and checking website technologies. In this article, we are reviewing two tools of this multi-modular platform – Email Finder and Email Verifier.
Email Finder
Snovio Email Finder is an instrument that you can use either as a web application or a browser extension. Let's have a look at what you can do with both of them.
Web application
You can't run an email campaign without an email list, and finding emails is what you need to build the list. Use Snovio Email Finder to grow the revenue by finding quality leads for the business. It helps you search for email addresses by a given domain name. Use the bulk search feature if you are looking to search for multiple domains (up to 20,000).
If you don't know the leads' email but know their name and the company they work for, then Snovio makes it easy to find their emails by performing a name search. You can also look up for companies by name, size, and industry. This is a great help for building a targeted list in any given industry.
Do more with the Chrome extension
Build the list on-the-go with email finder extension for Google Chrome. It lets you add email addresses to the list as you browse various websites. Additionally, you can also build a list through various other sources like LinkedIn search, Google search, and social media platforms. Apart from using Snovio Email Finder for searching targeted leads, you can also use it for finding and recruiting candidates for various job profiles in your organization. More than 140,000 users have been using this helpful tool which successfully found 73,236,242 email addresses last year alone.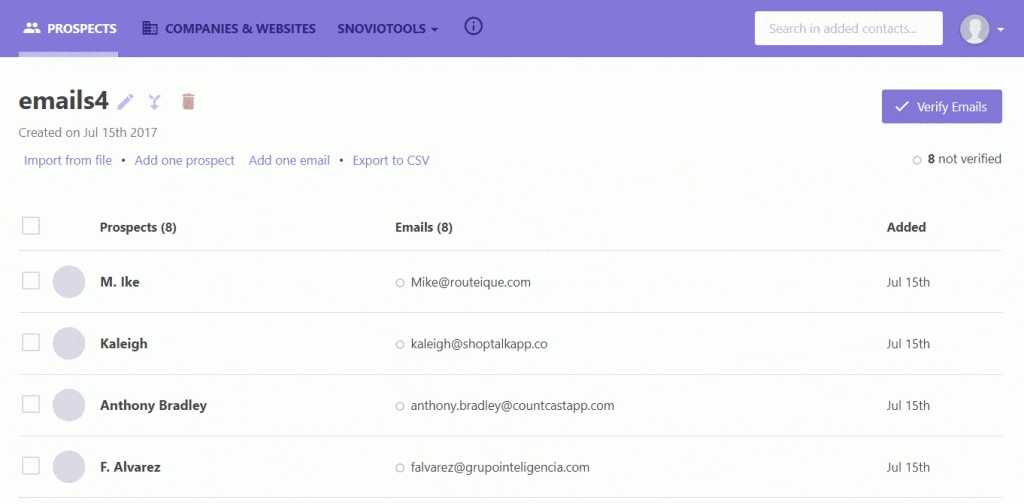 Email Verifier
Once you have the email list, you need a tool to regularly clean it of email addresses that become obsolete with time. Snovio Email Verifier does this job of accurately validating the list and removing the invalid email addresses within minutes. Since this is an online platform, there is no download required. Simply upload the email list, perform the validation, and export a clean list.
Snovio Email Verifier offers an unparalleled verification process. First, it checks the format of email addresses. Next, it verifies the domain associated with an email address. The tool also filters the catch-all domains during this process. The verifier then pings the SMTP server to determine the status of each email address with exceptional accuracy.
All this happens with lightning speed to deliver more results in less time. When the process is over, the verifier shows the user the invalid email addresses, so you can delete them to reduce the bounce rate.
It offers you flexible options to export the final results:
You can export the complete list segregated by status – valid, invalid, or
You can export the list as comma-separated values (CSV), Microsoft Excel Sheet (XLSX), or Google Sheet.
You can choose to export specific data pertaining to the prospects, for example, location, links to social media accounts, industry, and size of the company.
Enjoy it to the full
Email Finder is a solution for those who are tired of searching for leads manually and want to save time and money. It searches for email addresses on any webpage, so you will always get the best results.
Snovio Email Verifier offers unmatched deliverability of almost 98 percent. It reduces the bounce rate, making the email marketing campaign highly effective. It also removes duplicate email addresses, so that no prospect receives the same email twice.
Both Email Finder and Email Verifier can be used on any OS you've got. You can use it to verify Gmail, Hotmail, Outlook, and Yahoo email addresses. What is more, these two tools go under one roof so you won't have to pay twice.