Laser Engraving with Laminates
Published On October 18, 2017 |
Technology
Laser engraving systems have become the staple equipment for engravers, manufacturing companies, and retailers across the globe. The ranges of materials upon which lasers can mark are virtually unrivalled in precision, cost-efficiency, and without harming delicate materials.
Laser engravers are digitally controlled and as easy to operate as a conventional printer. Lasers can mark complex graphics, text, barcodes, and logos. The following will provide practical tips for laser engraving on laminates.
From the Bottom Up –

This method engraves the laminated material from the bottom up to prevent dust from discoloring the top layer. The dust is forced upward during this process.
Two Runs –

Engraving high-quality workpieces twice enhances the contrast of the engraving and prevents discoloration. It removes the top layer and cleans up the marking.
Painter's Tape –

If you're working with a dark colored laminate with a bright top layer, apply painting or masking tape to the top layer during the laser cutting process, then pull off the tape to reveal a dust-free, clean engraving. Some laminates already have a protective coating you can leave on to perform vector cuts, which will reduce residue and make clean-up easier.
Multiple Cutting Passes –

Using a low power setting, try laser engraving with two to three cutting passes to prevent unattractive bulges and sticky edges along the cutting sides. This can be better than one pass at a higher power level.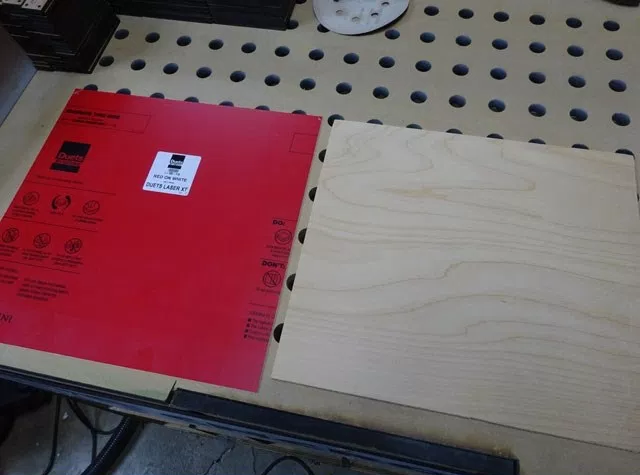 Cleaning After Processing –

Smoke residue sometimes occurs on the piece during processing. Wipe the substrate with a cloth dampened with methylated spirits and immediately wipe that off with a clean, dry cloth. Nano sponges, or dirt erasers, are good for cleaning laminates. If you're engraving on a glossy/shiny laminated substrate, use a sample to test the material to ensure it's not adversely affected by the methylated spirits.
Defocus Offset –

To avoid grooves in your laminate engravings, the Z-offset of 05.25mm helps to achieve groove-free, clean, and smooth results. This setting is ideal for reverse engraving. You can even use a second pass.
Minimize Banding Effect –

Lower the PPI to 500 for image/photo engraving to reduce the banding effect that often happens with laminate laser engraving. This also helps to keep the materials cooler when working with larger texts or images.
Related: Laser Marking Systems & Industrial Printers • Needham Coding
Suitable Laminate Applications
What types of laminated products can you engrave on or cut with your laser engraver?
Door signs
Advertising signs
Switchboards
Labels
Object signposts
Nameplates
Data plates
The creative side of laser engraving laminates includes cutting shapes and other designs for special custom-made gifts.
The benefits of using laser engraving on laminates and any suitable material is that lasers are:
Non-contact process that won't damage the substrate.
Cost-effective and efficient engraving and markings with complicated and delicate contours and unusual shapes
High-quality, digital manufacturing of graphics
Laser engraving technology provides flexibility for cutting, marking, and etching across a large range of substrates. It's versatile, fast, easy to manage, and provides high-quality products to businesses, organizations, and individuals. Many small to large engraving companies are benefiting from the use of laser technology on laminates.