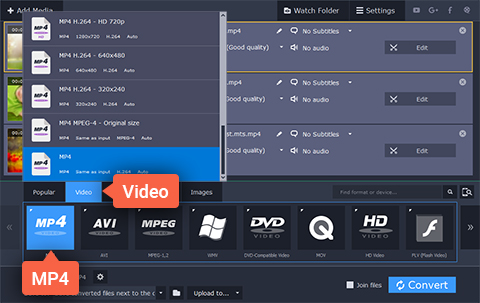 How to Deal with MTS Files
Published On August 16, 2017 |
Software
MTS is a popular, but quite a whimsical file format to deal with. It is used to store high-quality videos on Blu-ray discs or AVCHD. Due to their large size, it may be hard to transfer them or find the right software to open. One of the solutions is to convert MTS to a more convenient format – MP4, for instance, or any other.
There are plenty of tools that may help you convert MTS to MP4 and reduce the size of such files. Today we will tell you how to do it with Movavi Video Converter.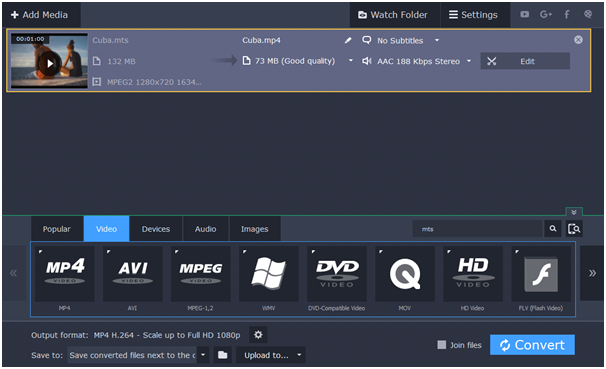 Establishing conversion parameters
Any available format can be found in the tabs at the bottom of the program or through the search bar. Each format has its own variations of settings: different combinations of resolution and codec. Plus, in some cases you will be able to use Intel hardware acceleration, NVIDIA CUDA and NVENC technologies, and SuperSpeed mode (that we will tell you all about later).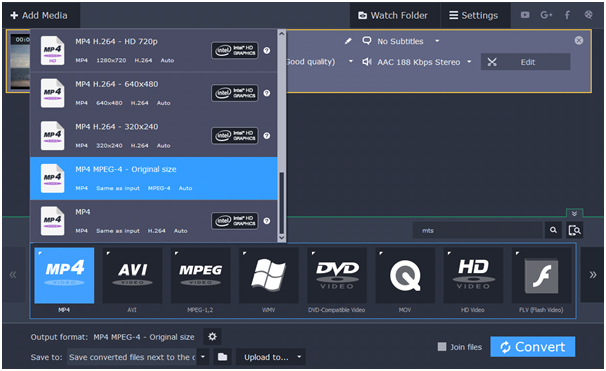 There are two options: you can save converted files next to the originals or choose an alternative folder.
Preferred output file size and quality
You can find the right balance for you between the file size and its quality. By moving the slider, you can increase or decrease the size, thus affecting the quality of the output video.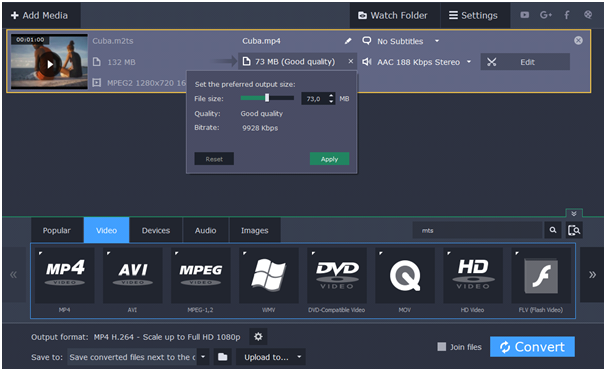 Preparatory editing
Before you convert your files you may want to make some changes. For example, get rid of some unnecessary parts of the footage. It can be done with the help of the precise trimming tool accessible in the built-in editor.
Here you can crop and rotate videos, manage subtitles and insert watermarks as well. Background noise, camera shake, and color disbalance can also be fixed in a couple of clicks. By tweaking basic and advanced parameters you'll enhance the video to the maximum.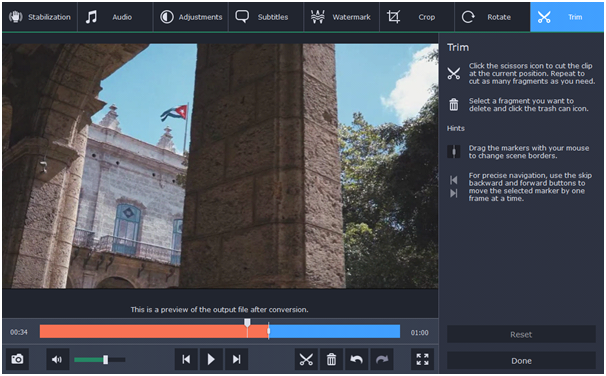 Conversion
The conversion itself takes just minutes, or sometimes even less, which is important when you work with large MTS files. Two main reasons were mentioned above and here's a bit more:
Intel HD Graphics technology and NVIDIA hardware acceleration ensure faster encoding. Intel acceleration is enabled by default, and you can activate CUDA and NVENC (depending on what video card you have) in the Settings.
SuperSpeed mode makes the conversion unbelievably fast. It uses remultiplexing – a type of video processing that doesn't require decoding and re-encoding. As a result, the speed of the conversion is almost as if you were copying the file from one folder to another.
Above all, Movavi Video Converter loads the CPU of your computer in the most efficient way, enabling you to work normally on your computer while the files are converting. That is why you should consider trying this program if you need to MTS Converter to MP4. With its help, you can keep you video collection in order and have enough space on the hard drive for new footage.