Amazon Search Engine Ranking
As a seller on Amazon, have you ever wondered about the factors that go into ranking your product listings in the search results? What makes Amazon list one product above another in the search results? What does it take to get to the first page? What does it take to get to the top? If you haven't asked yourself these questions, it is about time that you do. To save you some time, you can begin your quest by understanding Amazon SEO.
Amazon SEO is just like Google SEO – there are a plethora of factors that you must consider to make your product listings appear in the top of the search results. However, before we proceed, we should know that there are some factors which are simply beyond our control – customer's browsing pattern, shopping preferences, shopping history, et cetera, to Amazon's intricate algorithms which we will never know in entirety.
At the same time, there are many factors that you can work on to make sure your listings are optimized for Amazon's search engines. This includes working on your product listings – this is of utmost importance, followed by making your product description page look desirable and discoverable. You also have other factors to consider here like Fulfillment by Amazon, sales history, price, stock availability, shipping charges, and more. You can find all of this helpful information in this free Amazon SEO guide.
Importance Of Amazon Product Description For Amazon SEO
You may have heard of this popular saying regarding SEO – the content is always the king. This statement holds good, regardless of whatever the situation is. Content will always take priority and everything else comes later. While listing your products on Amazon, you should remember to apply the same principle. This entails using high-quality descriptions in bullet points and clear images as per the standards for your product descriptions.
While writing the descriptions, you should also be sure to target high-performing and high traffic keywords to drive in more traffic. Of course, you should not overdo it by stuffing your texts with keywords all around – this will only defeat the purpose. One of the best ways to find keywords is by using this best Amazon keyword research tool. All you have to do is enter the main keyword and the tool will automatically present all the relevant keywords.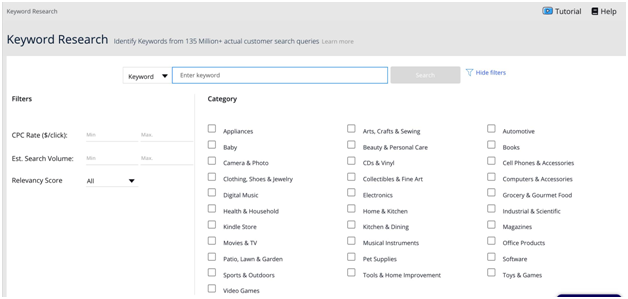 You also have the option of doing a reverse ASIN search to find out what keywords are being targeted by your competitors. This is an excellent way to study your competition. The best practice here would be to analyze 4-5 top competitors and compiling a list of keywords you get from them for a broader range.
You can also tally this with the results obtained from the above tool for a more exhaustive list of keywords.
Amazon Listing Quality
Lastly, you can also take this a step further by analyzing your competitors' listings.
Simply use this Amazon listing quality check tool to examine the listings of top performing sellers in your niche and compare the same with yours.
By doing so, you can see where you are falling short and work on the same accordingly. Hence, as you can see, there are plenty of free tools and resources out there to help you optimize your listings for Amazon's search algorithms. By getting a thorough understanding of this, you will definitely be able to outperform your peers.