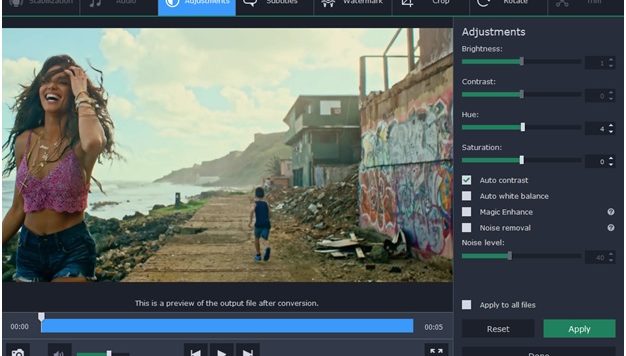 Movavi Video Converter is your buddy when you want easy and premium video conversion
Published On March 28, 2018 |
Software
Do you need to send a video to your friend's mobile? It could be about an amazing music video that you were talking about the other day. It could also be a business video that may help your friend in his project. Well, regardless of the content of the video, you need to check first whether your friend's mobile is able to support the format of the video. If not, you will actually need to convert the video into a format compatible with the mobile phone. For example, you can convert your video to MP4 as MP4 is a broadly supported format. And, Movavi Video Converter is your ultimate conversion tool here.
Let's see how simply you can convert your video into MP4 format with the help of the Movavi program.
Install Movavi Video Converter
The first task is to download and install Movavi Video Converter in your computer or laptop.
Add your video to converter program
Then, click on Add Media, followed by a click on Add Video to add your chosen video to the Movavi program window.
Select output format
Click on the Video tab and choose an output format. As we have discussed earlier, it will be MP4 in your case.
Select output folder & convert
Go to Folder icon and click on it to choose the destination folder for your converted video. It's the folder where the MP4 video will be saved automatically after the conversion. Now, you will simply have to click on Convert button to start the conversion process.
Now, let's have a look at the amazing features of Movavi Video Converter
This particular feature single-handedly keeps the Movavi program ahead of the competition. The Movavi software is designed with SuperSpeed technology which enables it to convert files in lightning-fast speed- precisely way faster than other converter programs.
Then, Movavi Video Converter is specifically designed with high-end engineering to ensure there is no loss of quality during conversion. So, even if you are converting HD or ultra HD videos- don't worry. The converted video will always come with a superior display.
Supports more than 180 file formats
With Movavi Video Converter, you can convert your videos to just any format. Yes, the cutting edge video converter program supports more than  180 file formats. It also supports over 200 mobile presets.
The Movavi conversion software is even able to help users with basic editing functions. For example, you can use it to adjust sound levels, crop out unnecessary parts from video and so on.
A useful tip for users:
If you want to convert the video to your mobile device, just connect the device to your system before starting the conversion process. The Movavi program is able to detect a mobile device automatically and can convert the video in a device compatible with the device on its own.