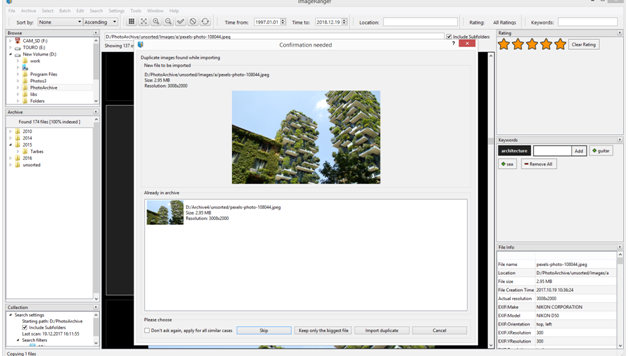 Tips to organize your photo in folders
Published On December 19, 2017 |
Software
Organizing photos in a new folder in your computer can be a time consuming and daunting task if there are multiple picture folders. If you need to select the photos manually, where date and location will ne consistently maintained, perhaps it will take some hard time for you and there is no such guarantee that after doing strenuous filtering and manual rearranging all the folders will be accurately arranged.
But what if you have thousands of images and you want to organize photos in a methodical manner and with robotic efficiency? Your one shop solution is to install ImageRanger on your system, which will offer you several tools for creating a new folder structure.  Check here the steps to know the tips to organize your photo in folders.
Configure your main folder location
You need to configure your prime folder location. By using New Archive Wizard from Archive top menu you may store all your images. If you can configure Archive location and a folder naming options, you can use the image import function.
Select your pictures and import them
 You can choose your pictures and import them by using the right button of a mouse by using the Archive top menu. While importing pictures, the new folders may get created, which is based on the image capturing time.
Folders by capturing location
Additionally, you can select your pictures into folders by capturing the location with the help of ImageRanger. This is well-situated for images taken in mobile devices, having GPS location tagging on.  If you can geo-tag on all your photos, you may create a new structure using the location: you may sort out the duplicate images and decide the image out of the two will be stored.
Specifying a custom folder naming template
Specifying a custom folder template is easy with ImageRanger. Just you need to use the right button on your mouse use the command/option Copy / Move To. It will help you get an instant shortcut to a specific folder already in your archive. However, you need a pro version for this special benefit.
Advantages of using Image ranger for photo archive
There are some other advantages of organizing photos by using ImageRanger. These are:
ImageRanger does not prevent you from forming multiple image archives.
You may modify the archive location anytime you wish and start with a new archive. You may configure an existing location as your prime path for picture storage.
If you want to alter your present folder configuration, simply select a new archive location and you can import all existing photos here.
You can also find and delete unwanted duplicate photos using this. We can easily get rid of it. So now it is really easy for you to find duplicate photos. This is the way you can organize your photos in folders using ImageRanger. This is the easiest way to organize thousands of images at one go.